Jerry Wong Golf Academy is located in the back corner of the Oak Valley Country Club in Beaumont. Familiar to few locally, the golf academy attracts students from all over the world thanks to a program that has helped lead many students to success in the world of college and professional golf.
The program is led by Jerry Wong, originally from Taiwan, who has been teaching golf since the 1990s and has been teaching at Beaumont since 2000.
Wong – who in his youth aspired to play professional golf himself – was driven to help others fulfill a dream he couldn't.
"I tried to play like a pro for two to three years and found it to be a very difficult career. I wasn't ready for that, but through experience I gained a lot of knowledge and ideas," Wong said. "I thought, 'I can't do that, but I'll try to help someone make it happen – to take advantage of what I've learned. "
Since starting the academy, Wong has built the business by making students through word of mouth recommendations. Wong said he hasn't done much marketing, which is why the school isn't popular locally.
In Educating Young People—students from ages 10 to college age—Wong also aims to help his students tap into their passion and skills for college golf and other job opportunities.
"Most of them, their number one goal is to play golf in college, and depending on how far they progress, if they feel they can make their career dream come true, they will. They all have that career dream, but they know that professionalism is hard and not everyone can achieve it," Wong said. "If they can't fulfill this career dream, they can go to university, which can help them find themselves and other options for their future."
This strategy has paid off for Academy students with many graduates from Ivy League universities and most others on full golf scholarships.
"It helps them financially and they continue to explore their potential in golf, because when you're on a golf team you get a lot of equipment, training, travel, and education," Wong said of receiving a golf scholarship. "It's a good deal for the kids."
Notable personalities include Henry Liao, winner of the 2004 PAC-10 Team Championship as a freshman at the University of Arizona, and Cynthia Lou, winner of the University of Oregon's PAC-12 singles and team championships in 2022.
When Liao was a student at Jerry Wong Academy, former President Bill Clinton visited Oak Valley to play with him.
Liaw has since become the general manager of the Morongo Golf Club in Tukwet Canyon, also in Beaumont.
Wong and his team of five to six coaches teach golf with a focus on individual development and teach them to manage the mental challenges of golf and competition.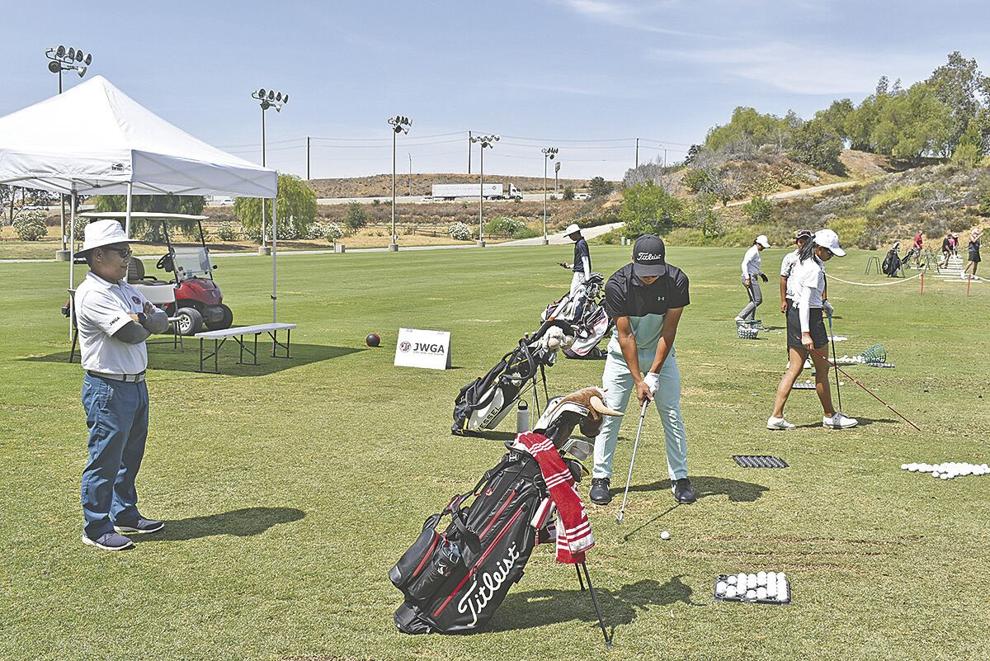 Besides teaching basic golf skills, Wong focuses on developing his students' mental strength, addressing game information and challenges and the ability to maintain a competitive focus.
"It's critical because the players are facing situations of pressure," Wong said.
These are some of the lessons that 17-year-old Jinshi (Jerry) Huang values ​​the most, learning to trust what you have learned and achieved in practice and not to think about the challenges you faced during tournaments.
Huang, who is from Taiwan, first discovered golf while cycling with his father and seeing a golf course. He has been golfing for nine years and hopes to become a professional. He enjoys learning at Jerry Wong Academy where he says the coaches teach him a lot and take care of him just like he was at home.
Tommy Contreras, whose backyard overlooks the golf club and Wong Academy, got to know Wong and his students and their admiration grew "over the fence."
"When I first met Jerry, I was struck by his dedication to serving children. Seeing these young people excel through the fence, Contreras said oftentimes we look into the distance of growth, to achieve what we want to achieve, yet there is an academy in our own backyard that can help. Lots of young people in our community."
"These guys come from all over the world and achieve great things with great humility," Contreras said of the players.
Through mutual respect, Wong called on Contreras to mentor students – most of whom live far from home and in a foreign country while at the academy. It helps guide them through cultural challenges and other lessons that young people can benefit from in learning from older generations.
"There's a language barrier sometimes, but it's amazing what these kids do to get past that. They find a way to communicate. So I took it upon myself to tell them, 'Even though you're in a foreign country far from your home country, there are people here who respect you,'" Contreras said.
"It makes me feel good knowing that when I look from my backyard, it's not just a golf course," Contreras added.